EUR/USD
Analysis:
On the chart of the European currency, the formation of an upward trend continues. The price is located within a powerful large-scale reversal zone. There is an incompleteness in the structure of the wave. There are no reversal signals on the chart.
Forecast:
Over the next day, it is expected that the downward mood of the movement will end, the formation of a reversal and a return to the bullish rate. If the upper limit of the nearest resistance is broken, you can expect a rise to the levels of the next zone.
Potential reversal zones
Resistance:
- 1.1960/1.1990
- 1.1890/1.1860
Support:
- 1.1810/1.1780
Recommendations:
Trading the euro in the market today is only possible within the intraday framework. Until there are clear signals of a change in the exchange rate, purchases of the instrument are in the priority.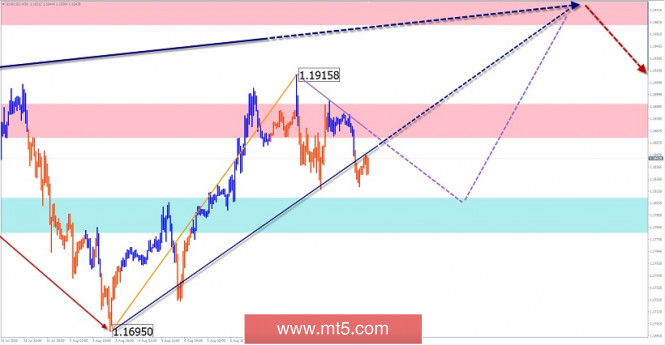 USD/JPY
Analysis:
On the chart of the Japanese yen, the direction of short-term trends is set by the algorithm of the rising wave of the daily scale from March 9. The current wave started on June 5. Its structure is not formed. At the end of the hidden correction that ended on August 3, the beginning of a potential reversal structure develops.
Forecast:
Today the general flat mood of movement in the side corridor between opposite zones is expected. An upward vector is more likely by the end of the day. In the resistance zone, one can wait for the completion of the rise and a repeated attempt to decline.
Potential reversal zones
Resistance:
- 106.20/106.50
Support:
- 105.40/105.10
Recommendations:
Trading today is appropriate only within the framework of intraday. In the first half of the day, you can buy a reduced lot. After the reversal signals appear, it is recommended to expand the direction of trading transactions.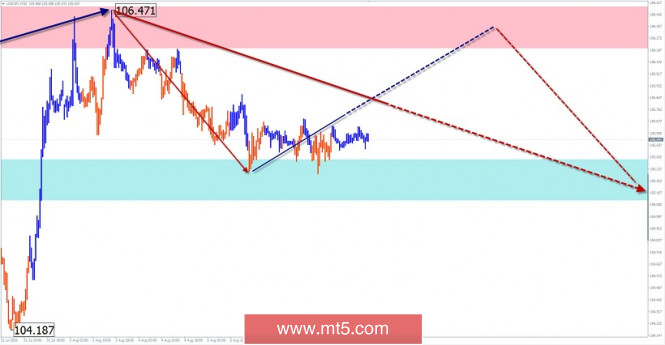 Explanation: In the simplified wave analysis (UVA), waves consist of 3 parts (A-B-C). The last incomplete wave is analyzed. The solid background of arrows shows the formed structure, and the dotted ones show the expected movements.
Note: The wave algorithm does not take into account the duration of the tool movements in time!