Technical analysis recommendations for EUR/USD and GBP/USD on August 6
EUR / USD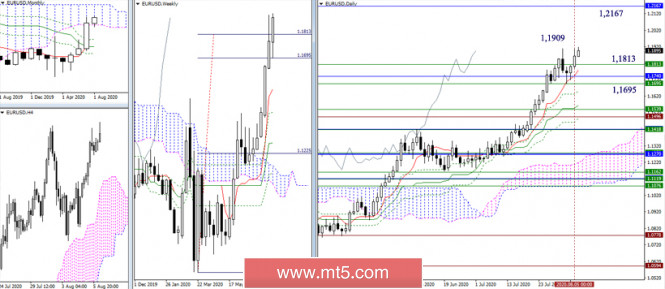 After several days of correction to the increase in attempted recovery of the upward trend. The maximum was updated, but it is too early to talk about the result, it should be formed. A secure anchorage above will allow you to hope for the continuation of the rise. In this case, the interests of the players to increase will be directed to the passage of the monthly cloud, since, having closed July in the Ichimoku cloud, the bulls made its upper border (1.2167) as the next reference point. 1.1813 - 1.1695 (worked out weekly target + monthly Senkou Span A + daily Tenkan) still serves as the support zone, which retains the advantages of the upside traders.
All analyzed technical instruments in the lower halves are currently supporting players to raise. The pair renewed the previous maximum extremum (1.1909) and tested the first resistance of the classic pivot levels (1.1914). If it consolidates above and continues the rise, the reference points within the day will be R2 (1.1966) and R3 (1.2026). The key supports today are located at 1.1854 (central pivot level) and 1.1808 (weekly long-term trend). A decline under support can change the current balance of power and turn an attempt to restore an upward trend into failure.
GBP / USD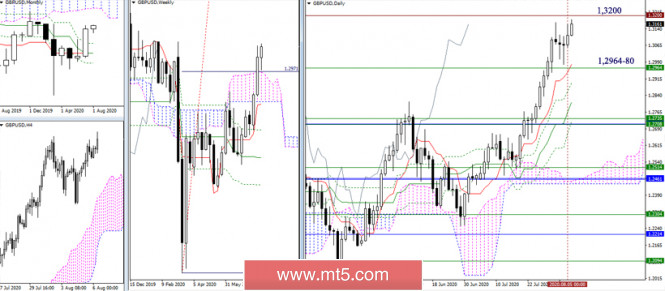 The bulls left the zone of the downward correction and renewed the maximum (1.3169), however, this is not enough. For the emergence of further prospects, it is important to overcome and reliably consolidate above the historical resistance in the area of 1.32. The nearest supports for the higher halves are now located quite deeply (1.2964, the upper border of the weekly cloud - 1.2980-day Tenkan), so they are not so relevant.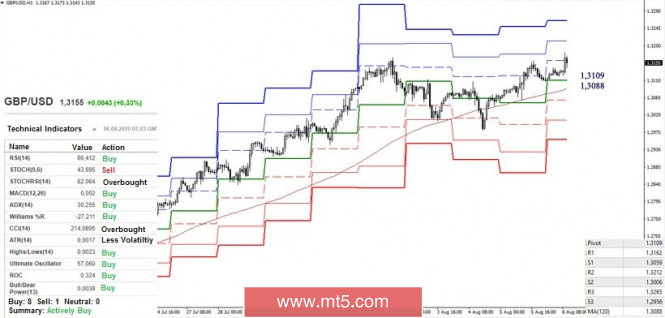 In the lower halves, the maximum extremum (1.3169) is strengthened by the first resistance of the classic Pivot level (1.3162). Breaking through which and consolidating above will open the way to the next reference points R2 (1.3212) and R3 (1.3265). The key H1 supports today are concentrated in the area of 1.3088 - 1.3109 (central Pivot level + weekly long-term trend). A consolidation below will bring the pair back to the correction zone and change the current balance of power in favor of strengthening bearish sentiment.
Ichimoku Kinko Hyo (9.26.52), Pivot Points (Classic), Moving Average (120)