EUR/USD
Analysis:
The dominant wave of the euro chart is ascending, counting down from March 20. The pair's price has reached a strong potential reversal zone on a large scale. Since July 31, quotes form a descending wave of a high wave level. It can be the beginning of a downward correction of the main trend wave.
Forecast:
During the next trading sessions, the mood is expected to be upward, until the full completion of the current upswing. Then you can wait for the exchange rate change and the beginning of an active decline.
Potential reversal zones
Resistance:
- 1.1850/1.1880
Support:
- 1.1780/1.1750
Recommendations:
There are no conditions for purchases in the euro market today. In the area of the calculated resistance, it is recommended to track reversal signals to search for entry into short positions.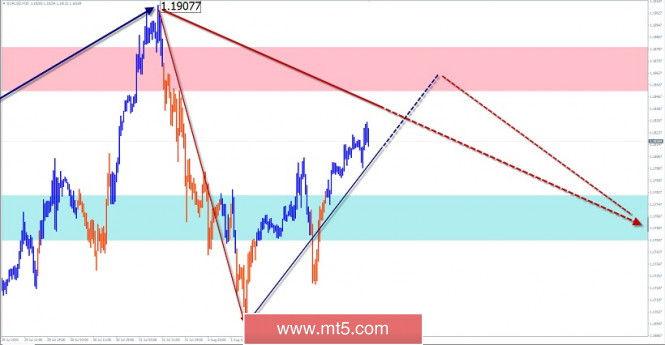 USD/JPY
Analysis:
Since the end of March, a weekly downward wave has been forming on the Japanese yen chart. Its structure does not show completeness. In the last section from June 5, the internal correction is nearing completion, after which the decline will continue. The reversal signals on the chart have not yet been formed.
Forecast:
Today, the price is expected to continue moving in the side corridor between the nearest counter zones. After trying to pressure the support, you can wait for a reversal and an attempt to climb. After that, you can expect a more active decline.
Potential reversal zones
Resistance:
- 106.20/106.50
Support:
- 105.40/105.10
Recommendations:
Trading on the yen market today is quite risky. Before the emergence of clear signals sales, purchasing deals are not recommended.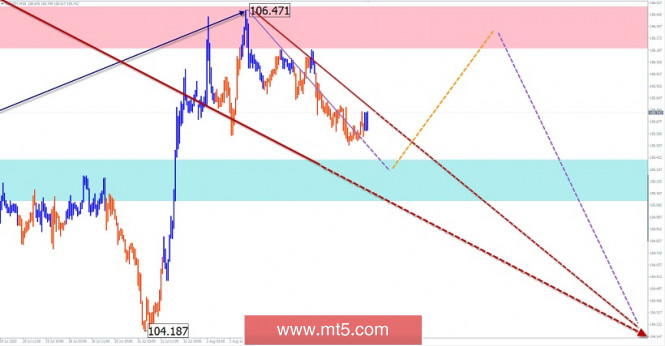 Explanation: in simplified wave analysis (UVA), waves consist of 3 parts (A-B-C). The last incomplete wave is analyzed. The solid background of arrows shows the formed structure, and the dotted one shows the expected movements.
Note: The wave algorithm does not take into account the duration of the tool movements in time!