Economic calendar (Universal time)
Among the most significant events of the economic calendar today, we expect a decision on the interest rate (UK) at 12:00 and at 12:30 data on GDP (USA).
EUR / USD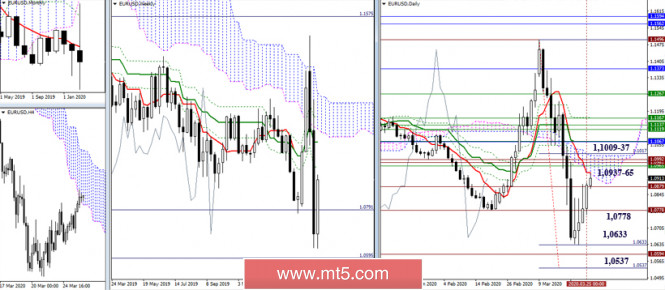 Players to upgrade managed to implement a full-fledged correction, thanks to which they are currently testing the zone of influence of the first target - the daily Tenkan (1.0937). The short-term trend is strengthened by the accumulation of resistances in the form of a daily cloud and other levels of higher time intervals, as a result of which the nearest resistances can now be determined in the areas of 1.0937-65 and 1.1009-67. The closure of the current week and month above these benchmarks may allow the euro in the near future to stay on the wave of an emerging global crisis. Now, support can be identified at 1.0778 (historical level) and 1.0633 - 1.0537 (daily target for breakdown of the cloud).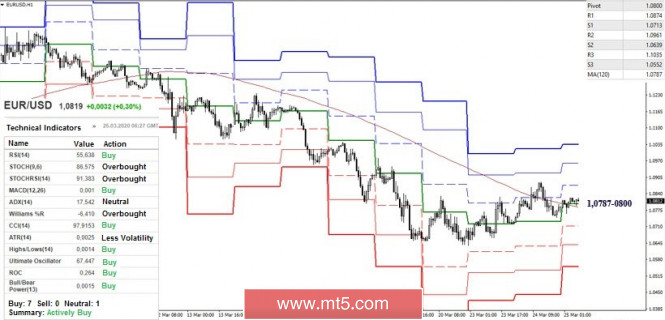 Despite the length of deliberation, the players to increase managed to stay above key supports yesterday and continued to rise. At the moment, the advantage remains on the side of the players to increase. On H1, they test the resistance R1 (1.0932), strengthened by the levels of high halves led by the day Tenkan (1.0937). The breakdown and consolidation of the resistance encountered above will enhance the players' advantages to increase and may contribute to the emergence of daily short-term support. The following resistances of the classic Pivot levels are located today at 1.0979 (R2) and 1.1065 (R3). In the case of rebound formation, key support will meet the pair at 1.0846 (central Pivot level) and 1.0777 (weekly long-term trend).
GBP / USD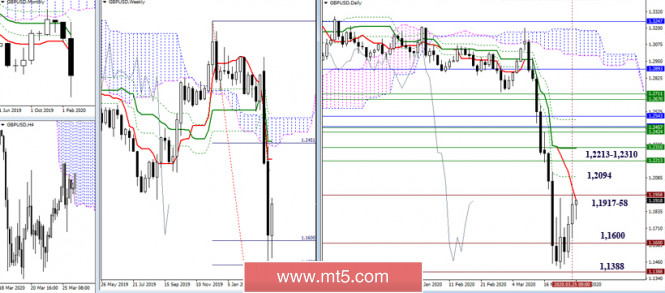 The daily Tenkan did its own work and went down into the zone of influence of the price chart. As a result of this, the main resistance today is 1.1917-1.1958 (daily Tenkan + historical level). Fixing above will allow players to increase their hopes for a short-term daily advantage. The following upward targets are 1.2094 (daily Fibo Kijun) and 1.2213 - 1.2310 (weekly levels + daily Kijun). The support is still the weekly target for the breakdown of the Ichimoku cloud (1.1600 - 1.1388).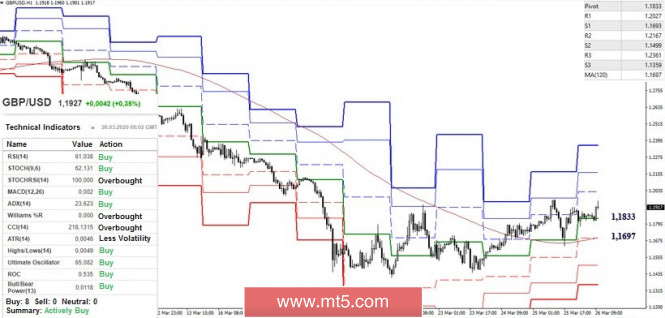 In the lower halves, the players to rise continue to maintain an advantage, but the pair is in the correction zone and is testing the first key support of the lower halves of 1.1833 (central Pivot level). Today, the resistance R1 (1.2027) - R2 (1.2167) - R3 (1.2361) will serve as upward reference points within the day when the upward trend continues. Fixing below the key supports 1.1833 (central Pivot level) and 1.1697 (weekly long-term trend) may change the current balance of forces in favor of the bears, who will then seek to restore the downward trend (1.1411).
Ichimoku Kinko Hyo (9.26.52), Pivot Points (classic), Moving Average (120)