EUR/USD
On Thursday, the main news of the market was a statement by the Chinese authorities about the upcoming agreement with the United States of the "first stage" on the mutual abolition of prohibitions. Representatives of China announced the possible signing of the agreement within two weeks. The American side, however, has not yet confirmed or clarified either the schedule of negotiations or the scope of agreements. The euro lost 15 points at the end of the day. We have repeatedly expressed the idea that, regardless of the success of the US-Chinese negotiations, the dollar will mainly strengthen in its direction, in only one case it will grow as investors move away from risk, and in the other case on expectations of a stronger US economy.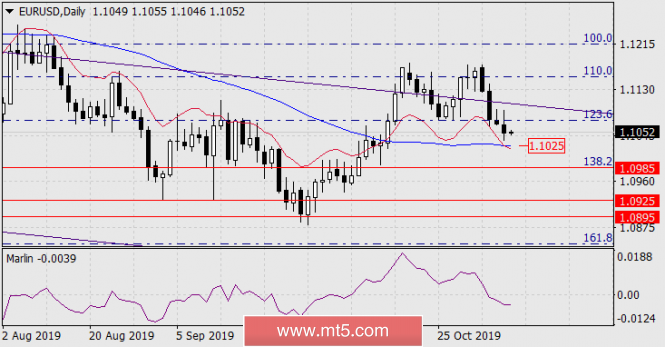 The price slightly fell yesterday to support the MACD line on the daily chart, accordingly, the 1.1025 target is postponed to today. Consolidation below the line opens the target at the Fibonacci level of 138.2% at the price of 1.0985. The Marlin oscillator in the zone of negative numbers.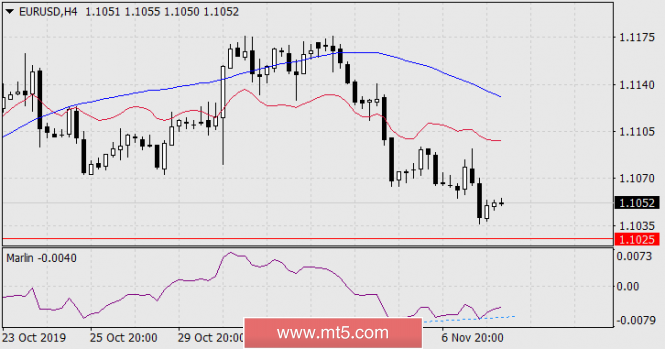 A slight convergence formed on the four-hour chart for Marlin. A potential correction may develop if positive economic indicators across Europe emerge. Germany's trade balance for September is projected to grow from 18.1 billion to 19.3 billion euros, France's trade balance could improve from -5.02 billion euros to -4.90 billion. The correction may stop with the release of the consumer confidence index in the US in the assessment University of Michigan - November rate is expected to rise from 95.5 to 96.0.