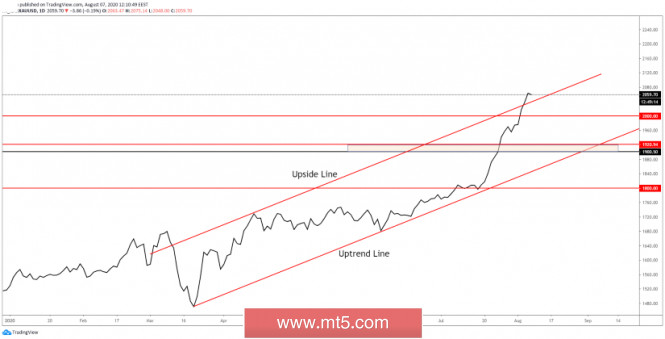 Gold is trading at $2,060 level after making another top and after the upside breakout from the ascending channel, above the upside line. I've said in a previous analysis that the gold price is expected to increase further, to jump higher, and I've talked about the $2,000 psychological level and by the upside line as potential upside targets on the Daily chart.
The breakout above, pass beyond, the upside line of the up-channel has confirmed strong buyers once again and potential further growth. Price could decline a little to retest the broken upside line before going upwards.
Buy Gold if the price touches the $2,080 level. If it jumps above the $2,075 all-time high, the next upside target could be at the $2,100 psychological level. The price is expected to climb higher, to resume its upside movement, as long as it stays above the upside line.
Now, we don't have a selling opportunity, only a drop below the upside line followed by several retests of this line could announce a potential decline and could bring a selling opportunity.