XAU/USD is trading at $2,047 level, lower versus $2,054 today high, and still below the $2,055 yesterday's all-time high. The outlook is bullish, so the yellow metal could still approach the $2,100 psychological level if the USD continues dropping and if the COVID-19 crisis gets worse.
The gold price has developed a minor exhaustion pattern, but the bulls are still in charge and they could push the price higher anytime. Gold was paused by a dynamic resistance, now is pressuring this obstacle again, a valid breakout will validate further growth.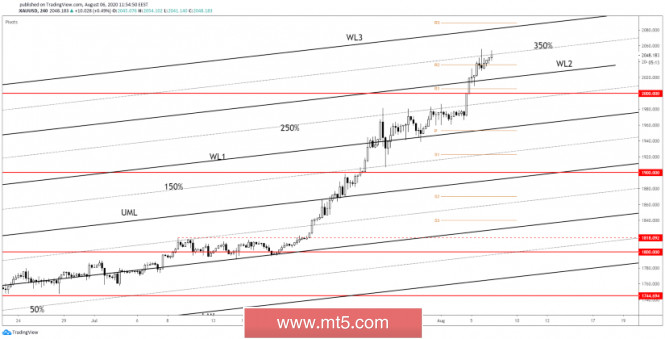 The gold price is pressuring the 350% Fibonacci line, a valid breakout above it and another higher high will bring a long opportunity. Gold has managed to come back above the R2 ($2,036) level, static resistance, without retesting the second warning line (WL2) signaling strong bullish momentum.
The next potential upside target is seen at the third warning line (WL3), or higher at the R3 ($2,088) level.
Buy a valid breakout above the 350% Fibonacci line, or another higher high, if the price closes above the $2,055 level. The next target could be represented by the WL3, the price could approach this line if it takes out the 350% resistance line.
You can sell only a drop below the R2 ($2,036) followed by a valid breakdown below the second warning line (WL2).