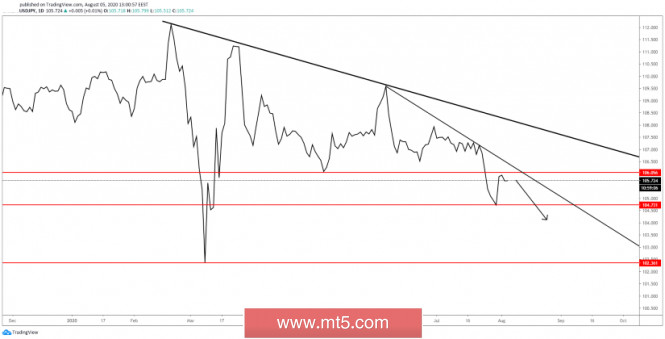 USD/JPY has increased a little from around 104.70 level, maybe the rebound was normal after the accelerated drop. The currency pair is still traded below two downtrend lines, so the outlook is still bearish, USD/JPY could drop further.
Price could reach, touch, and retest the minor back downtrend line and the 106.00 psychological level before going down again. Only a jump and stabilization above these upside obstacles will suggest that USD/JPY will increase at least till the major black downtrend line.
We'll have a great selling opportunity if USD/JPY decreases and if it makes another lower low to drop below the 104.70 level. This scenario will really confirm a drop towards the 102.36 static support.
USD/JPY could decrease also from here, after retesting the resistance levels (106.00 and the minor downtrend line). A minor drop after the first downtrend line retest will signal a further decline, the 104.70 is seen as the first downside target.
USD/JPY will increase in the short term if the price jumps and stabilizes above the minor downtrend line, such a breakout will suggest buying with the target at the major black downtrend line.