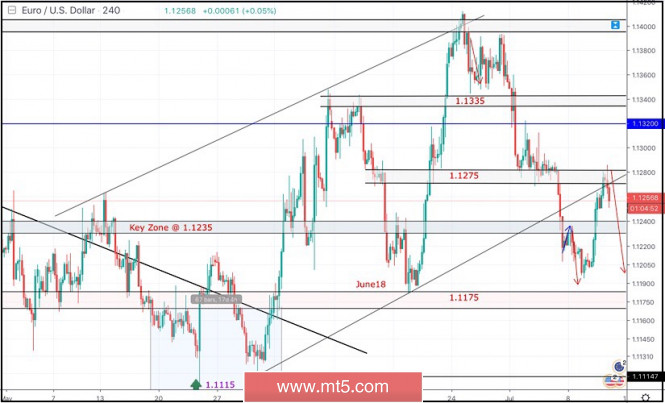 On the highlighted period between (May 17th and June 5th), temporary bearish breakdown below 1.1175 was demonstrated on the chart.
This allowed further bearish decline to occur towards 1.1115 where significant bullish recovery brought the EUR/USD pair back above 1.1175 which stands as a prominent DEMAND level until now.
Initially, Temporary Bullish breakout above 1.1335 was demonstrated (suggesting a high probability bullish continuation pattern).
However, the EURUSD pair has failed to maintain that bullish persistence above 1.1320 and 1.1275 (the depicted price levels/zones). This was followed by a deeper bearish pullback towards 1.1175 where significant bullish price action was demonstrated on June 18.
The EURUSD looked overbought around 1.1400 facing a confluence of supply levels. Thus, a bearish pullback was initiated towards 1.1275 as expected in a previous article.
Further Bearish decline below 1.1275 enhanced a deeper bearish decline towards 1.1235 (the lower limit of the newly-established bullish channel) which failed to provide enough bullish support for the EUR/USD.
The recent bearish breakdown below 1.1235 invited further bearish momentum to move towards 1.1175.
However, significant bullish momentum was earlier demonstrated around 1.1200 bringing the EUR/USD pair again above 1.1235.
That's why, the current bullish pullback was expected to pursue towards the price zone around 1.1275 where a confluence of resistance/supply levels come to meet the pair.
More Bearish price action should be anticipated near the price zone of 1.1275 where a valid Intraday SELL position can be considered.
Trade recommendations :
For Intraday traders, a valid SELL entry can be offered at retesting of the broken key-zone around 1.1275.
Initial Target levels to be located around 1.1235, 1.1200 and 1.1175.
Stop Loss should be placed above 1.1300.